The Easiest Home Furnace Repairs are the Ones You Have Us Do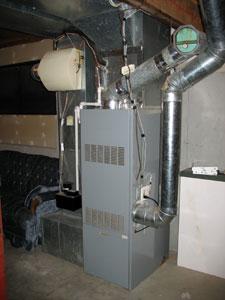 <itemprop="description">Sure, there are a few things you can do to keep your furnace running efficiently, but when it's time for the technical stuff, Portland residents should have access to outstanding professional furnace repair service. At All Time Heating LLC we're known for our accurate diagnosis and dependable repair work. When you're having issues with your furnace it doesn't matter which make or model you own, we can repair it or recommend a replacement.
Don't risk getting burned by a broken furnace
We'll have a technician out to your property as soon as we receive your call. Our friendly heating and air conditioning techs understand furnaces inside and out. We'll speak with you about the problem, when it first occurred, and any symptoms that preceded it. A thorough visual inspection of your furnace will provide us with the opportunity to scrutinize and test specific areas. Once we've identified the problem we'll discuss your options with you.
---
Does Your Heating System Need Some Love?
If your heater is displaying any of these symptoms, give us a call:
Your furnace isn't producing enough heat.
The system is cycling on and off too often.
You hear unusually loud or strange noises.
Unit blower won't stop running.
The furnace has stopped providing any heat.
Your thermostat is broken or malfunctioning.
Pilot control or light won't work properly.
Electric ignition isn't working correctly.
Heating bill seems much too high.
Not enough airflow to the unit.
---
Not ready for a new furnace? We can extend the life of your current system!
Our Portland heating technicians provide electric and gas furnace repair that Portland homeowners depend on. We carry a wide range of necessary parts and all the tools required to effectively repair your unit. We even provide additional maintenance services and can combine them with performing repairs. This is a great way to extend the life of your furnace and get more for your money.
---
Get Comfortable While we Fix Your Furnace!
A lot of furnace issues aren't costly to fix. So, don't hesitate to call is if yours is acting up. We're happy to provide an estimate before beginning any work and will leave you with a detailed report of our work before calling the job complete. When you're looking for local furnace repair that gets the job done right, don't get left in the (7-8 months of) cold!
Need HVAC or Furnace Service?